The Park: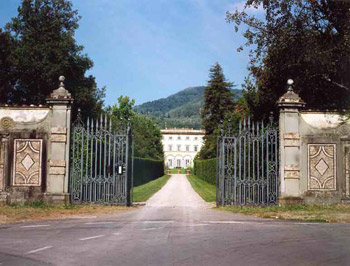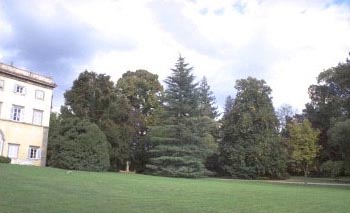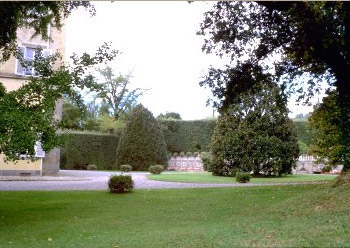 One enters the Villa from the south, through an elegant Wrought Iron Gate, the design of which has influenced the logo of the "Association of Lucchesian Palaces and Villas", of which the Villa itself is a member.
The gate is framed on either side by two pilasters of grey stone, decorated with bands of travertine and panels of white pebble, foundry losses and tufa Mosaics, a design which is repeated several times within the park, in particular on the northern central balustrade.
One goes up along the majestic driveway, which is strategically placed on the central axis of the estate, and allows from the centre of the Villa a full prospective view across all of the garden, which culminates at the circular Fountain to the north of the Italian garden, with the hills in the background, while, from the southern entrance, on a nice day, we have a view in the distance of the plain of Lucca.
On either side of the driveway, in geometrical order, are tall Laurel hedges, that hide to the east a "casa colonica" or farm house with its stable and barn, and a section of the estate's vineyards; to the west the fruit and vegetable orchards and olive trees, which today supply the needs of the Villa, and the remaining vineyards.
A small quantity of red and white wine is produced annually at Villa Grabau, but is retained only for private use. It is known as "Doc Wine of the Lucchesian Hills", and is famous in the area as it comes from the hills around Lucca.
At the end of the driveway is a second set of pillars, decorated like those at the entrance, flanked by an internal wall, actually believed to be the original 16th century one, which divides the park from the agriculture land.
The pilasters, which are made of Matraia Stone, are decorated with bands of travertine and surmounted by fierce looking Eagles, and watched by two Marble Dogs all clearly meant to frighten any ill-intentioned person.
The vast Park which extends around Villa Grabau measures nine hectares, and it is composed of several gardens, each of them is an expression of timeless beauty. To the south is the 19th century English Garden or garden "à l'anglaise".
Its present style, with a large lawn delimited by a driveway for carriages, was already existent in 1836, when the property was still of the Cittadella family, while the plantation of long-trunked trees is to refer to the intervention of the Schwartze-Grabau family.